We were in Grand Cayman on serious business.

We were there for Engaged, the ultra-luxury wedding planner and vendor conference.

But banana boats are fun to ride along the Caribbean coast.

At least, that's what three Millennials convinced this Old Geezer it would be.

Fun. Fun. Fun.

Off we go, out into the deep, hanging on for the ride as the banana-shaped boat took us over and around the waves.

So far, so good. It was definitely fun!

Other than a few splashes and ocean spray, we were even fairly dry.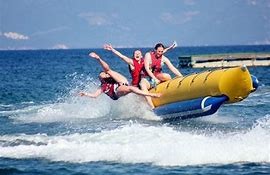 As we neared the beach, I guess our pilot decided we weren't wet enough. Our rubber fruit missile made a sudden sharp turn. The next part was called Hanging on for Dear Life.

But that didn't work and we all went for a big dip.

Along with my Tag Heuer sunglasses.

I didn't read the fine print on the contract, which advised all banana boaters to leave their valuables ashore. One of the banana boys promised me he'd go out diving to look for them. I offered him a nice reward. 

"No worries, Banana Boat Billy, I'll get 'em for you!" 

He may have kept the promise about finding them—but then decided he could sell them for more than I would tip. 

He probably didn't know they were prescription. He may have had quite the search to find the right buyer.

A few days later, more serious business. I was on my way to Aventura Mall to buy reasonable facsimiles, at a cost of a little less than four figures.

So be it.

Fortunately for us, God does keep his promises. This week we celebrate His biggest promise, when He sent Jesus to die in our place, knowing that we're all sinners.

His was the ultimate sacrifice.

Being human, unfortunately almost none of us keep every single promise we make.

But God does.

And that's what really matters.

Isaiah 49:5-6

And now the LORD says- he who formed me in the womb to be his servant to bring Jacob back to him and gather Israel to himself, for I am honored in the eyes of the LORD and my God has been my strength- 6he says: "It is too small a thing for you to be my servant to restore the tribes of Jacob and bring back those of Israel I have kept. I will also make you a light for the Gentiles, that my salvation may reach to the ends of the earth."